Building A Foundation of Tennis Love in Florida
By Laura Bowen, USTA Florida Executive Director
"Philanthropy is not about the money. It's about using whatever resources you have at your fingertips and applying them to improving the world."  ~Melinda Gates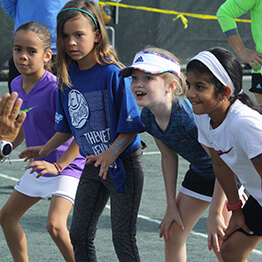 There are a lot of ways we can improve the world. You might not think tennis is one of them. But as Melinda Gates points out — philanthropy is not about money. It's about using the resources you have at your fingertips.
Take the average tennis fan (that's you). Tennis is literally at your fingertips. You're reading about it right now. You watch it frequently. You probably play it. When you hold a tennis magazine, a tennis ball, or a racquet in your hand, you have all the resources required to impact and improve your community — through tennis. And there is one organization in Florida that helps put those resources to work: The USTA Florida Section Foundation.
Our Foundation is built on love — love of tennis and the opportunities it offers. From adaptive programs to schools to after-school programs, thousands of youth and adults across the state would never have touched a racquet, picked up a ball, or experienced the love of tennis without the resources that our Foundation provides.
For those of you who enjoy numbers, that's 721 grants since 2010, totaling a whopping $1,220,801. Schools and after-school programs received 245 of those grants. Adaptive programs received 39 of those grants, totaling more than $95,000.
But the Foundation itself isn't what makes those programs happen.  People like you do. People in communities all over the state run these programs — not for money, but for love of the game and the people they serve. Those philanthropists are the engine that drives tennis forward, and our Foundation fuels them.
This year, USTA Florida and the USTA Florida Section Foundation are more committed than ever to providing the resources needed to promote and grow these community-based programs. We just launched a new website — www.ustafloridafoundation.com — which will provide a platform for showcasing the impact these programs have at the grassroots level and connecting community activists with the resources they need. Please check it out and connect with us on social media at @USTAFloridaFNDN to tell us how tennis can help your community.
Now, more than ever, we need all of you to help build a foundation of love by giving your time, energy, and (yes) money. Help host a fundraiser in your community, spread the word about the "Play Tennis!" License plate, volunteer to give your time, and if you can, donate. Together, we can change lives.
As Picasso said, "The meaning of life is to find your gift. The purpose of life is to give it away."