USTA Local Foundations Struggle During COVID to Raise Funds for Grassroots Tennis Support
By Rick Vach, USTA Florida Section Foundation Board Director
Grassroots funding to get kids playing tennis in after-school programs, to repair public courts and support special-needs groups such as Special Olympics Tennis doesn't just come from the national level. The majority of the 17 USTA sections have their own state or regional foundations that need your support, especially after a year of the COVID-19 pandemic.
One example is the USTA Florida Section Foundation, which fundraises primarily through a "Play Tennis!" license plate, with more than 90% of the proceeds going directly back into the Florida community in the form of grants to non-profit tennis organizations.
"We take pride in providing support to areas that fall outside the focus area of USTA's national foundation," says USTA Florida Section Foundation Director Alexis Johnson. "We are fortunate to have agreements with both Special Olympics Florida and Love Serving Autism to ensure those state-wide tennis programs receive what they need to be most successful."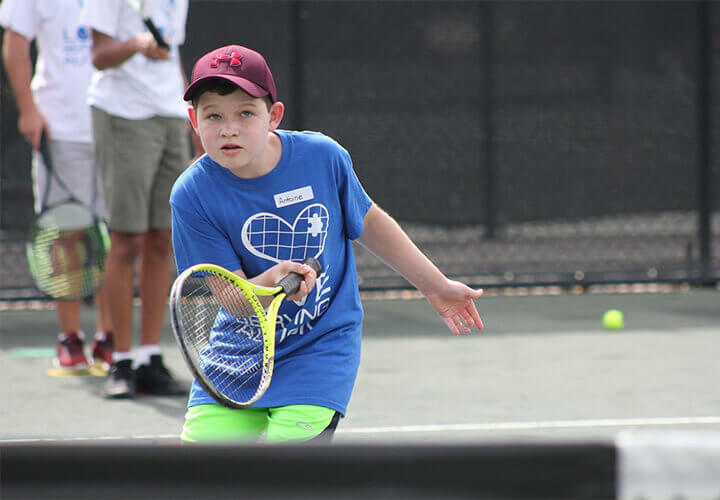 The onset of COVID-19 made fundraising difficult in 2020 across the board, from the national level down to the local sections. At the national level the USTA Foundation primarily supports NJTL chapters (National Junior Tennis & Learning after-school programs), and made up their COVID-19 fundraising drought with some heavy lifting via their fundraising partners. The USTA Foundation brought ESPN, Chris Evert and leveraged the US Open to launch a "Rally to Rebuild" campaign that raised more than $5 million to help fund the 160,000 under-resourced youth in 250 diverse U.S. communities that the NJTL serves.
The national USTA Foundation has to date awarded almost $50 million in grants, program services and scholarships to programs and individuals throughout the U.S. The USTA Florida Foundation in turn has awarded more than $1.6 million in grants and facility awards to the grassroots tennis community in Florida, filling in the gaps with grants and awards to programs that are not NJTLs and therefore not eligible for national foundation funds.
In Florida, 100% of individual and partnership donations made are returned to the community and grassroots programs, and more than 90% of the donations generated from the purchase and annual renewals of the "Play Tennis!" specialty license plates are returned to local grassroots programs. In 2019 the USTA Florida Section Foundation raised $182,196 and awarded $165,506 in support back to the community.
One example of a recipient is West Care Gulf Coast Florida Inc., which received $1,640 for a partnership program with the St. Petersburg Tennis Center which allowed the organization to launch a brand-new Racquets and Recovery program to introduce the sport of tennis to individuals with substance use disorders or co-occurring substance use and mental health disorders.  The purpose of the program was to enrich the treatment experience of over fifty women and aid in building the physical, mental, and emotional skills needed to achieve and sustain recovery.
"As addicts, a lot of times we isolate," said Charma Huffer, a Racquets and Recovery program participant.  "The only people we are around are those who are using, so now we get to be around healthy people and healthy settings and do healthy normal things.  That's really what we need in our lives."
The program has become so successful that they have continued running it for up to 50 women at a time as a part of the third level of their treatment.
State and regional foundations, Johnson says, struggled mightily last year and into 2021 due to the COVID-19 pandemic and losing the ability to fundraise through events. The USTA Florida Section Foundation Board of Directors have brainstormed new fundraising objectives working around the coronavirus and event shutdowns, but the "Play Tennis!" Florida license plate and subsequent promotions remain a large part of their fundraising.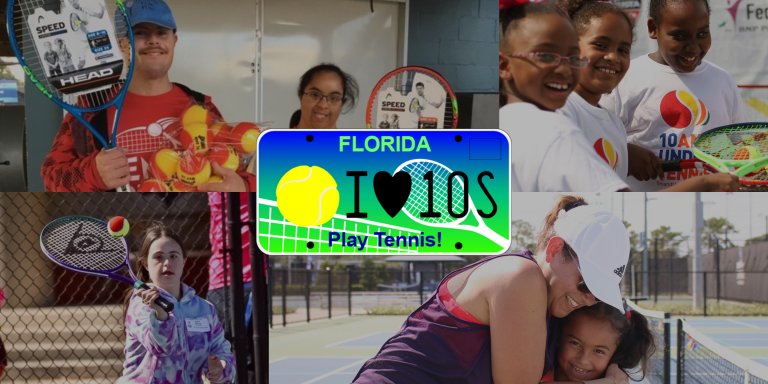 "We love seeing the 'Play Tennis!' plate on cars and other vehicles as tennis players in the state of Florida show their support," Johnson says. "It's through the efforts of everyday players, and people who simply want to support grassroots tennis organizations, that we're able to make an impact and support local organizations that are in dire need of additional support to remain operational."
ABOUT THE USTA FLORIDA SECTION FOUNDATION
With a mission of "Changing Lives through Tennis," the USTA Florida Section Foundation provides financial support to organizations that help people of all ages and abilities improve their health and quality of life through the great game of tennis. Since 2005, The USTA Florida Section Foundation has had a community impact of more than $1,600,000 through equipment and financial support for community tennis programs throughout Florida. To learn more about the USTA Florida Section Foundation visit www.USTAFloridaFoundation.com.