#MyGivingStory: Celia Rehm
We know that every act of giving has a story behind it. Join us as we learn what moves our donors to dedicate their time, talents and financial support to changing lives within Florida.
What inspired you to start giving?
The realization of a need has always tugged at my heartstrings…a need in my own family, in someone else's family, seeing a friend in need, a need in the community, a need due to a catastrophe.  I could go on and on.  Awareness of a need plus the realization that I may be in a position to help or find others who may be able to help makes my heart smile.
What does giving mean to you?
Giving comes in many forms.  An empathetic touch, a kind word, giving of one's time, giving of one's talent, knowledge and skill are all personal resources which I have given. Some of us are fortunate to be able to contribute monetarily to causes we care about. Some of us have the capability to build relationships…reaching out, finding support, teaming up with strong community partners are all forms of giving.
Why do you continue to give your time, talents, money, or more to your community?
Deep gratitude for the blessings I have received.  "He said freely, freely you have received. Freely give!"  Those are lyrics that speak to me.  Also, seeing the successful outcome of initiatives to which I have given my time, talent, and resources that have led to community support for the startup of youth and adult tennis programs that continue to serve and bring joy to many in the community…there is nothing more rewarding than to see programs spring up in the community, seeing a smile on a child's face, receiving a "thank you" from a parent, seeing adults and children have fun on the tennis courts…making a difference in some way in someone's life or in the community is what it's all about!
What would you tell others who are looking to start giving back?  Share a piece of advice that will help them get started? 
"Pause for a moment and look around you, you will see a need." Then it is just a matter of seeing how you may be in a position to help.
Please share a favorite moment or story from when you volunteered or donated to an organization.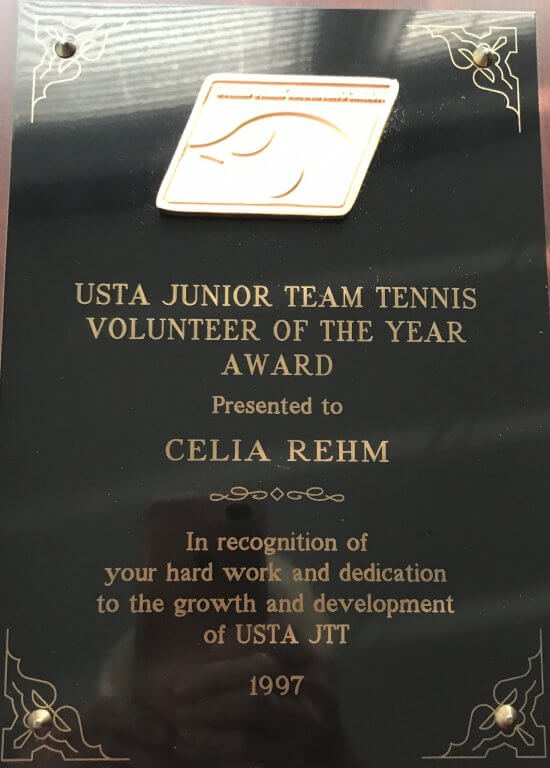 In the fall of 1996, while serving as District 3 Director for USTA Florida, I saw a need for a Junior Team Tennis League in the greater Jacksonville area.  With the help of USTA Florida staff, we began laying the groundwork for the league.  It required attending the local USPTA meetings to discuss the gap that existed in the tennis community to a roomful of pros.  The USTA Junior Team Tennis program seem to be the perfect solution. The response was uniformly enthusiastic to the plan presented. The Pros' assistance in recruiting captains for the teams and the players from their own junior membership was amazing.  Parents were recruiting as team captains, 39 in total.  Acting quickly, in the capacity of area league coordinator, I organized captains meetings for structure development and player recruitment. Team captains each responsible for one squad began collecting fees and completing team rosters.  In a relatively short time, 300 players had signed up for the league, easily the largest participation base in USTA Florida. The league continued to grow thanks to the positive word of mouth from the players, parents, and the pros who were seeing participation mushroom in their other junior tennis programs.  The success of the league was beyond expectation requiring me to continue to serve as the league coordinator for three years, after which, I recruited a team captain, a parent, to take over the reins. The league continued for many years with a succession of league coordinators.  Its success is well documented and is one of my proudest initiatives because of the recreation, fun and many other benefits it contributed to the tennis community.
We want to hear your giving story!  Email info@ustafloridafoundation.com to be featured next.