Orlando Women's Tennis League Latest to Partner USTA Florida Foundation to Assist Area Youth
By Rick Vach, USTA Florida Marketing & Communications Coordinator
Tennis leagues across Florida are teaming with the USTA Florida Section Foundation to bring tennis to under-served youth populations in their communities.
Orlando's Women's Amateur Invitational Tennis (W.A.I.T.) C League is the latest to partner with the Foundation, the official giving arm of USTA Florida, to provide assistance to after-school play and youth tennis leagues in downtown Orlando. The league has joined forces with the Foundation to fundraise for T.E.A.M. Junior Tennis Inc.'s Parramore program over the course of their 2018-2019 season.
"The ladies of the W.A.I.T. C League are excited to sponsor the Parramore youth tennis project to bring fun, fellowship and fitness to children in our downtown Orlando neighborhood." says Jennifer Schreiber, W.A.I.T. C president.
The league has a goal of raising $15,000 to help bring the T.E.A.M. mission of "affecting the path of local youth in communities through academic tutoring, health and wellness education, family coaching and tennis instruction" to life within their hometown. The league is also pledging volunteer hours on-court and for educational support of the program, along with gathering traditional soft goods the athletes can wear while playing.
T.E.A.M. Junior Tennis was founded to reach, empower and equip children with the life skills and knowledge necessary to become important contributing members of their immediate communities. Their programs provide tutoring in all subjects covered by state assessment tests, along with tutoring for current class work, while also providing high-quality tennis lessons to ensure that no child is denied access or opportunity to experience the sport of a lifetime.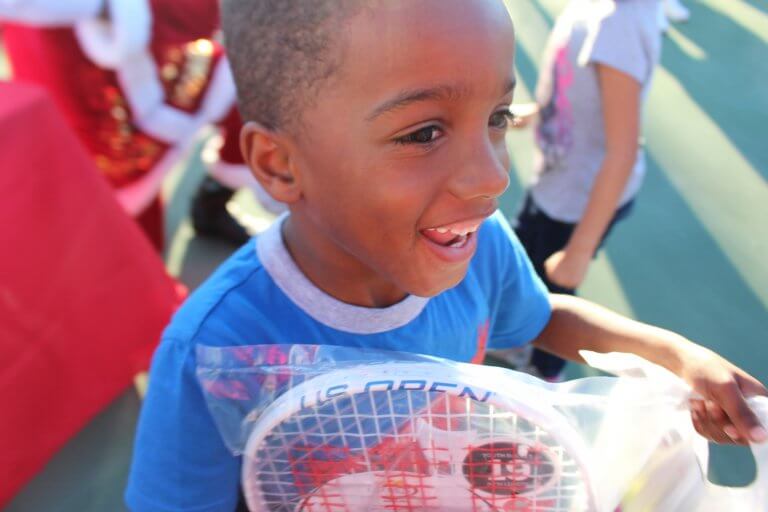 "This partnership with the W.A.I.T. C league will let T.E.A.M. expand to additional recreation centers, allowing us to reach a larger number of under-resourced children," says Scott Thornton, Executive Director of Team Junior Tennis, Inc. "The money will permit T.E.A.M. to bring in more tutors to help improve reading, writing and math skills. This will be a great benefit for the children of Parramore."
T.E.A.M utilizes its mentoring arm to provide education on healthy-living opportunities through an exposure to better nutritional options, a focus on seeing healthcare providers, and remaining physically active. The program in Parramore just kicked off this school year and has already grown quickly with more showing interest in getting involved each week.
W.A.I.T. C isn't standing by until the end of their fundraising efforts to make big dreams come true.  During the holiday season Jennifer's family, Scott and Soul Santa came together to spread some cheer to the athletes by surprising them with new equipment.
"We quickly realized that bringing together the ladies of W.A.I.T. C with T.E.A.M Junior Tennis would form the perfect match," says USTA Florida Section Foundation Executive Director Alexis Johnson, "and by spreading some holiday cheer they are continuing to prove us right.  The league wanted to ensure their fundraising efforts would help youth tennis within their area, and we knew the Parramore program needed more assistance in getting off the ground. The USTA Florida Section Foundation is proud to be trusted by W.A.I.T C to assist in their fundraising efforts, and to be a resource and grant-making body to the T.E.A.M. program in making sure the athletes get what they need to participate in a life-changing program."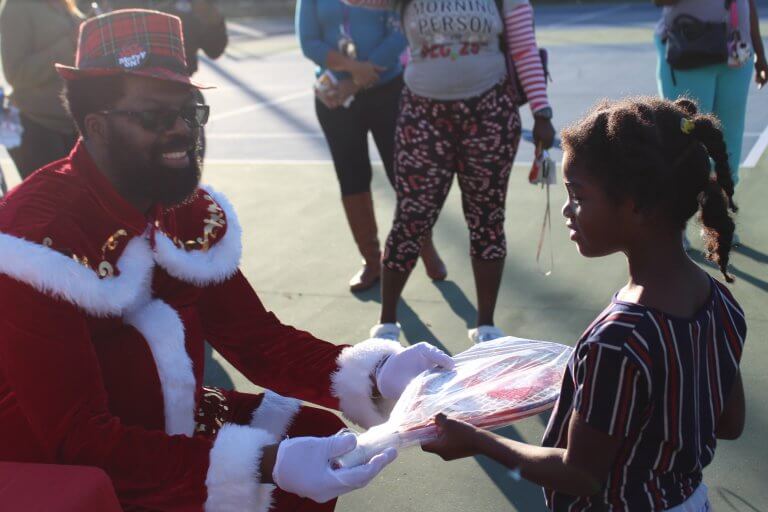 With a mission of "Changing Lives through Tennis," the USTA Florida Section Foundation provides financial support to organizations that help people of all ages and abilities improve their health and quality of life through the great game of tennis.
To contribute to the W.A.I.T. C league's fundraising efforts for Parramore, visit www.WAITCParramorePartnership.funraise.org. For information on how your league or organization can partner to assist under-served youth in your community, go to www.USTAFloridaFoundation.com/contact.