Approximately $30K in Florida Grassroots Tennis Grants Distributed by USTA Florida Foundation
By Rick Vach, USTA Florida Marketing & Communications Coordinator
Grants provided to programs in Boca Raton, Clearwater, Delray Beach, Gainesville, Hollywood, Lake Worth, Miami, Naples, Orlando, Sarasota, Stuart, and Weston
Community tennis programs in Florida received a boost in the latter months of 2018 when approximately $30,000 in grants were provided to after-school programs, mentoring initiatives, high school tennis programs, and organizations serving children and adults throughout the state by the USTA Florida Foundation, the giving arm of USTA Florida.
The funding was part of August-October grants from the USTA Florida Section Foundation that returns 90 percent of the annual contributions it receives from the "Play Tennis!" license plate and 100 percent from other sources directly back into the Florida tennis community, primarily to grassroots community programs. Grants were provided to organizations, many of which that are helmed or assisted by volunteers, in Boca Raton, Clearwater, Delray Beach, Gainesville, Hollywood, Lake Worth, Miami, Naples, Orlando, Sarasota, Stuart, and Weston.
"These grants bring our 2018 grant total to approximately $76,000 and more than 30 grants," says USTA Florida Section Foundation President Donn Davis. "The best way to cap off this year has been seeing the happy faces, of all ages and abilities, that are participating in thriving tennis programs supported in part by our loving donors and impact investors."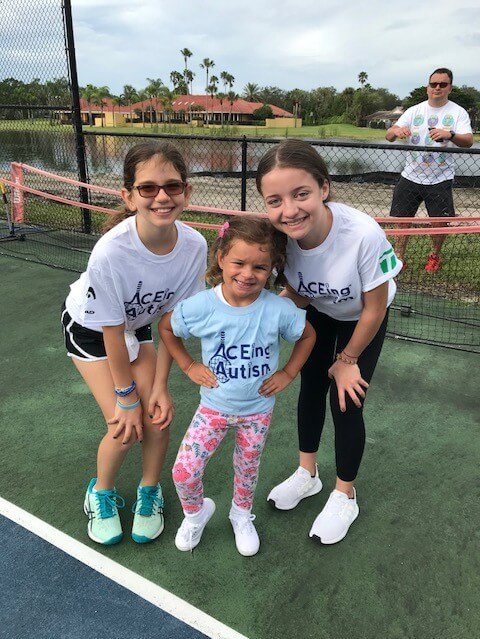 ACEing Autism, which utilizes tennis volunteers to run programs in Weston, Naples, Stuart, Miami, Orlando, and Hollywood, was a recipient of a grant to support its programs in cities serving children with autism between the ages of 5-18. The program pairs non-autistic youth volunteers who support their autistic peers as coaches during the program. The funding will also provide program scholarships to children with parents in need.
"There's a true feeling that they are on this tennis journey with each of the kids that participate in the program," says ACEing Autism Weston Program Director Andrew Grub, a dedicated high school senior and volunteer assisted by his mother, Erica Grub.
USTA Florida Section Foundation 2nd cycle grants:
Boca Raton — Love Serving Autism, Unicorn Children's Foundation Program ($1,240)
Clearwater — Love Serving Autism, McMullen Tennis Complex Program ($2,125)
Delray Beach — Delray Beach Youth Tennis Foundation, Community Outreach Tennis Program ($3,250)
Gainesville — Gainesville Area Community Tennis Assoc., Enhancement of Aces in Motion Program ($3,420)
Hollywood — ACEing Autism ($420)
Lake Worth — Love Serving Autism, Park Vista Community High School Program ($2,125)
Miami — ACEing Autism ($420)
Naples — ACEing Autism ($420)
Orlando — T.E.A.M. Junior Tennis, Inc., Team Education & Mentoring Program ($2,262)
Orlando — Orlando Community Youth Trust ($2,080)
Orlando — ACEing Autism ($420)
Sarasota — B. Harris Kids, Robert L. Taylor Community Complex Program ($3,440)
Stuart — ACEing Autism ($420)
Weston — ACEing Autism ($420)
Since 2010 the USTA Florida Section Foundation has awarded almost $1,300,000 in grants for tennis programs serving people of all ages and abilities throughout Florida.
To support Florida recreational grassroots tennis with a "Play Tennis!" plate go here, and follow along on social media @USTAFloridaFNDN to see how your annual contribution changes lives through tennis throughout the state.
ABOUT THE USTA FLORIDA SECTION FOUNDATION
With a mission of "Changing Lives through Tennis," the USTA Florida Section Foundation provides financial support to organizations that help people of all ages and abilities improve their health and quality of life through the great game of tennis.
To learn more or for grant information visit www.ustafloridafoundation.com.