Palm Beach Gardens, partnering with USTA Florida Foundation, getting non-tennis families on the court
Children often follow their parents' lead with sports, and a sport is even more likely to stick if kids and parents can play together.
That's the idea behind a pilot program being held this summer at the City of Palm Beach Gardens Tennis and Pickle Ball Center. Funded by a grant from the USTA Florida Foundation, the program seeks to get children and families who might not initially try tennis, on the courts together. The Family Tennis Program teaches basic tennis skills utilizing the USTA curriculum, with parents participating and children receiving a youth racquet with age-appropriate balls to practice at home.
"A weekly group lesson is given with large-group youth tennis training techniques and exercises taught, also the using the practice wall," says William McDermott, the Recreation Programmer for Tennis who works with the center's juniors ages 6-16. "Families are encouraged to use the equipment outside the classes to speed progress and thus encourage interest."
The eight-week program held on Saturdays has a low-cost introductory rate to encourage as many families as possible to try tennis.
"While the tennis and pickleball center's rates are reasonable, to many in our area they still are an obstacle," McDermott says. "By giving kids basic equipment and balls, they will be able to self-train on a frequent basis, returning for a weekly class and soon becoming players."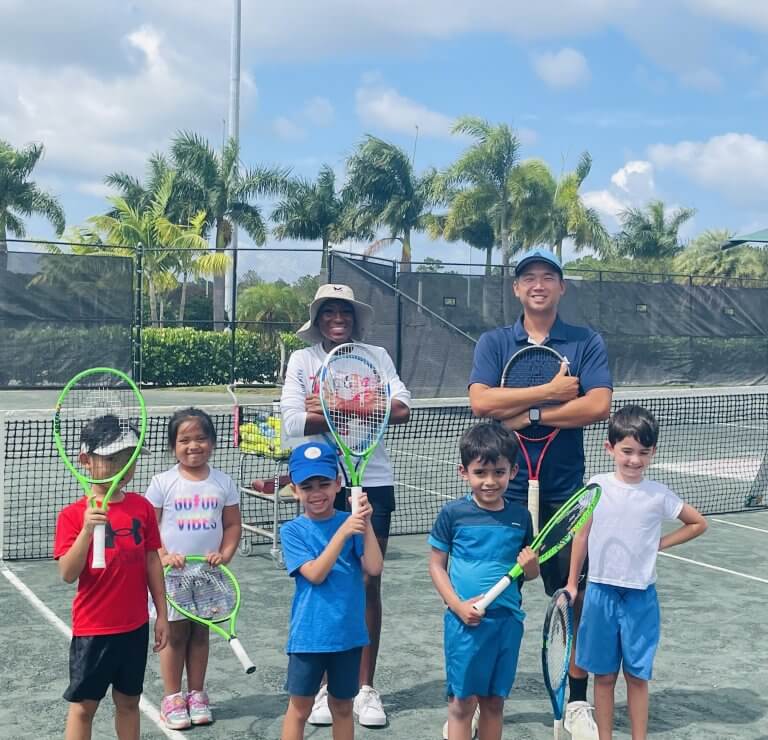 The staff realizes the new program will need a "period of development" to gain a foothold, and is supported under the City of Palm Beach Gardens Recreation Department's menu of offerings.
"Palm Beach Gardens is a very sports-oriented community, but it needs a program that can attract and serve the large number of families that must deal with limited budgets," Wendy Tatum, Director of the City of Palm Beach Gardens Tennis and Pickle Ball Center says. "This program will encourage those who otherwise might not try it to develop the physical and social tools and not be 'left behind.'"
The center is no stranger to innovation. In addition to offering a full slate of USTA junior, adult, adaptive tennis and charity events, last year it received the USTA national Outstanding Facility Award, one of only 25 facilities nationally to receive the honor. In 2019-2020, it was awarded as the USTA National Member Organization of the Year, in 2018 as the USTA Florida Member Organization of the Year, and in 2014 it first received the national Outstanding Facility Award.
"Great tennis facilities like these help us to grow the game at the grassroots level, and we are proud to recognize them for their ongoing impact on the sport of tennis," said Craig Morris, Chief Executive, Community Tennis, when the facility was awarded in 2021. "These facilities have embraced many key tennis initiatives and kept the sport at the forefront of their community each year."
Now the City of Palm Beach Gardens Tennis and Pickle Ball Center, come this fall, will review their success and further expand their efforts to get families who might not normally have the opportunity on the courts playing together and creating future junior and adult league or recreational players.
About the USTA Florida Section Foundation
With a mission of "Changing Lives through Tennis," the USTA Florida Section Foundation provides financial support to organizations that help people of all ages and abilities improve their health and quality of life through the great game of tennis. To learn more or to apply for a grant go to ustafloridafoundation.com.