Support the USTA Florida Foundation at Upcoming Bea for Kids Champions Challenge
By: USTA Florida Foundation Staff
Legends and former greats of the ATP World Tour will make a stop in Orlando in March for the Bea for Kids Champions Challenge, an event benefitting the USTA Florida Section Foundation.
The event, to be held on March 24, is part of the 2020 Invesco Series QQQ tennis circuit, the North American tour for champion tennis players over the age of 30 and where legends continue to compete and display their finesse.
Former world No. 1s John McEnroe, Jim Courier and Andy Roddick and former Top 10er Tommy Haas will battle on the center court inside Orlando's Amway Center in two one-set semifinals, with the winners meeting in the championship match.
The one-day Bea For Kids Champions Challenge will benefit five Orlando children's charities, including the USTA Florida Section Foundation, the giving arm of USTA Florida. Several ticket options are available for purchase, including special VIP experiences such as play-with-the-pros opportunities and special back-stage access. Any questions or for more ticket information, contact Alexis Johnson at 407-982-2971 or johnson@ustaflorida.com.
Event Schedule:
3:00 PM – Play with the Pros Session A Roddick/Haas
4:00 PM – Play with the Pros Session B Courier/McEnroe
5:30 PM – Player Party Experience
5:30 PM – Adaptive Tennis Clinic & Showcase
6:00 PM – Doors Open to General Public
6:30 PM – Backstage Experience
7:00 PM – Semi-final #1 Courier vs. McEnroe
8:00 PM – Semi-final #2 Roddick vs. Haas
9:00 PM – Finals
10:00 PM – Event Conclusion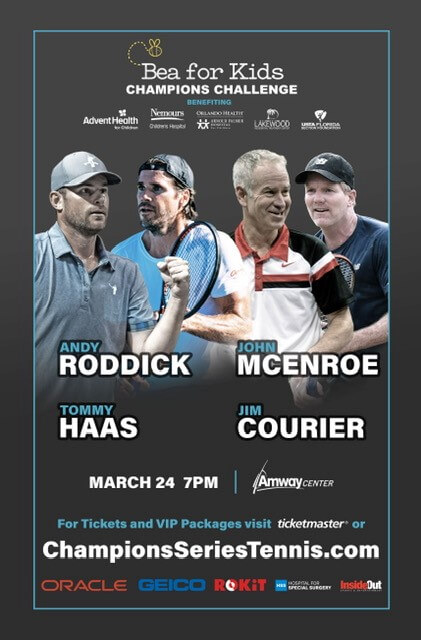 ABOUT THE USTA FLORIDA SECTION FOUNDATION
With a mission of "Changing Lives through Tennis," the USTA Florida Section Foundation provides financial support to organizations that help people of all ages and abilities improve their health and quality of life through the great game of tennis. Since 2005, The USTA Florida Section Foundation has had a community impact of more than $1,600,000 through equipment and financial support for community tennis programs throughout Florida. To learn more about the USTA Florida Section Foundation's mission and how you can help make a difference in your local community, visit www.UstaFloridaFoundation.com.